4CR 100 - centrifugal electric Pump multigirante three-phase
Flow rate up to 130 l/min (7.8 m3/h). Head up to 50 m. Motor 0.75 Kw (1 HP).
Non ci sono ancora recensioni
100% secure payments

Telephone support for information before purchasing.
---

After-sales assistance for product installation.
---

We supply all spare parts on this product.
---
Description
It is recommended for pumping clean water without abrasive particles and liquids chemically non aggressive to the materials making up the pump.
For reliability and ease-of-use are widely used in the domestic sector and civil society, in particular for the distribution of water coupled to small and medium-sized reservoirs, surge tanks, for decanting and for irrigation of orchards and gardens.
The installation is to be carried out indoors or otherwise protected from the weather.
Data sheet
Motor connection

THREE-PHASE

Motor power (HP)

1

Absorption at 230V (A)

4.5

Absorption at 400V (A)

2.6

Suction mouth

1 "

Delivery port

1 "

Body Pump

AISI 304 stainless steel

Impeller

Noryl

Number of impellers

4

Motor shaft

Stainless steel EN 10088-3 1.4104

Check valve

no

Degree of protection

IP 44

Flow rate min. (l./min.)

5

Max flow (l./min.)

130

Min head (m.)

5

Max head (m.)

50

Employments

pressurization systems, water supply, irrigation

Liquid temperature max. (° C)

40

Height (cm)

20.2

Width (cm)

18.2

Depth (cm)

41.1

Weight kg)

10.6

Guarantee

Two years
Related Products
Compare with Similar Products
4CR 100 - centrifugal electric Pump multigirante three-phase

This product

Flow rate up to 130 l/min (7.8 m3/h). Head up to 50 m. Motor 0.75 Kw (1 HP).

5CR 80 - centrifugal electric Pump multigirante three-phase

Quick View

Flow rate up to 80 l/min (4.8 m3/h). Head up to 66 m. Motor 0.75 Kw (1 HP).

3CR 100 - centrifugal electric Pump multigirante three-phase

Quick View

Flow rate up to 120 l/min (7.2 m3/h). Head up to 37 m. Motor 0.55 Kw (0.75 HP).

5CR 100 - Three-phase multi-impeller centrifugal electric pump

Quick View

Flow rate up to 130 l / min (7.8 m³ / h). Head up to 62 m. Engine 1.1 Kw (1.5 HP).

Brand

Motor connection

Motor connection

THREE-PHASE

Motor connection

THREE-PHASE

Motor connection

THREE-PHASE

Motor connection

THREE-PHASE

Motor power (HP)

Absorption at 230V (A)

Absorption at 230V (A)

4.5

Absorption at 230V (A)

4.3

Absorption at 230V (A)

3.4

Absorption at 230V (A)

4.2

Absorption at 400V (A)

Absorption at 400V (A)

2.6

Absorption at 400V (A)

2.5

Absorption at 400V (A)

2.0

Absorption at 400V (A)

2.4

Suction mouth

Delivery port

Body Pump

Body Pump

AISI 304 stainless steel

Body Pump

AISI 304 stainless steel

Body Pump

AISI 304 stainless steel

Body Pump

AISI 304 stainless steel

Impeller

Number of impellers

Motor shaft

Motor shaft

Stainless steel EN 10088-3 1.4104

Motor shaft

Stainless steel EN 10088-3 1.4104

Motor shaft

Stainless steel EN 10088-3 1.4104

Motor shaft

Stainless steel EN 10088-3 1.4104

Check valve

Degree of protection

Degree of protection

IP 44

Degree of protection

IP 44

Degree of protection

IP 44

Degree of protection

IP 44

Flow rate min. (l./min.)

Flow rate min. (l./min.)

5

Flow rate min. (l./min.)

5

Flow rate min. (l./min.)

5

Flow rate min. (l./min.)

5

Max flow (l./min.)

Min head (m.)

Max head (m.)

Employments

Employments

pressurization systems, water supply, irrigation

Employments

pressurization systems, water supply, irrigation

Employments

pressurization systems, water supply, irrigation

Employments

pressurization systems, water supply, irrigation

Liquid temperature max. (° C)

Liquid temperature max. (° C)

40

Liquid temperature max. (° C)

40

Liquid temperature max. (° C)

40

Liquid temperature max. (° C)

40

Height (cm)

Width (cm)

Depth (cm)

Weight kg)

Guarantee
Construction data of the 4CR 5CR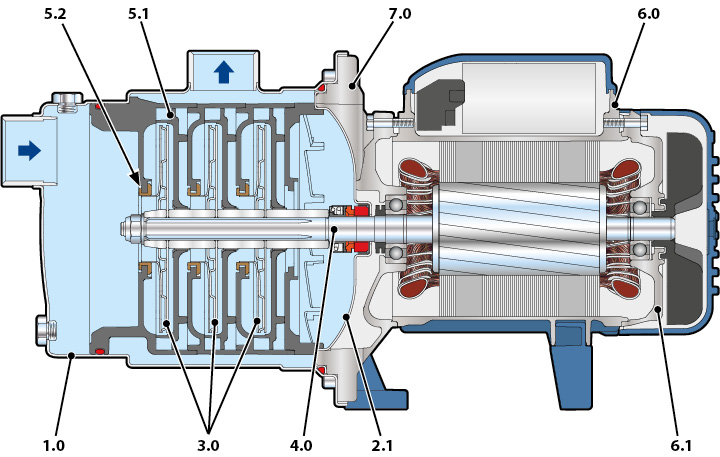 Bearings
| | |
| --- | --- |
| Pump side motor bearing | 6203 ZZ |
| Opposite side motor bearing | 6203 ZZ |
Shaft seal
| | |
| --- | --- |
| Type of seal | Single Mechanical Seal |
| Pump side model | AR-13 |
| LP diameter | 13 |
| Fixed ring LP | Ceramic |
| Rotating ring LP | Graphite |
| LP elastomer | NBR |
Materials
| | |
| --- | --- |
| 1.0 - Pump Body | EN 1.4301 stainless steel (AISI 304) |
| 2.1 - Seal holder cover | EN 1.4301 stainless steel (AISI 304) |
| 3.0 - Impeller | EN 1.4301 stainless steel (AISI 304) |
| 4.0 - Pump shaft | EN 1.4057 stainless steel (AISI 431) |
| 5.1 - Diffuser | Reinforced technopolymer |
| 5.2 - Shim Ring | POM acetal resin |
| 6.0 - Motor holder | Aluminum EN-AB 46100 |
| 6.1 - Engine cover | Aluminum EN-AB 46100 |
| 7.0 - Lantern | Aluminum EN-AB 46100 |